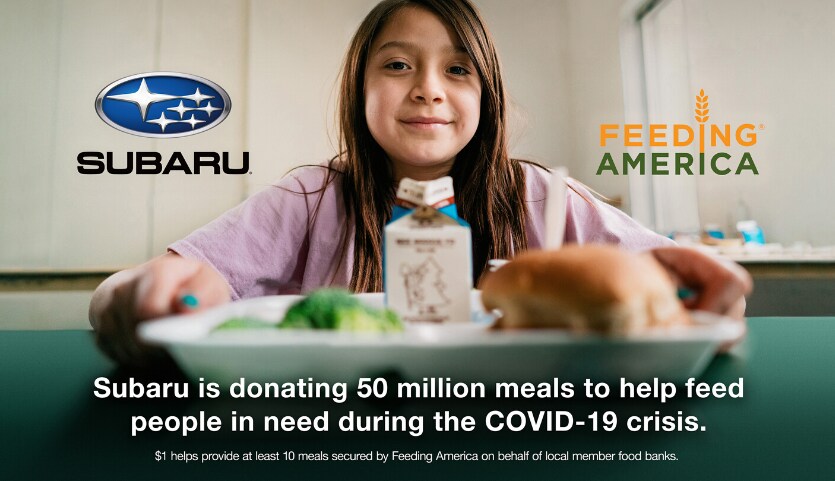 Subaru of America, Inc., along with Subaru of New England and Subaru Distributors Corp. have teamed up with Feeding America® to ensure that those significantly impacted by COVID-19 have food to eat. With thousands out of work as a result of the pandemic, many are struggling to make ends meet. To help out during this uncertain time, Subaru will make a donation to Feeding America®, the country's largest network of hunger-relief organizations. The donation will help fund 50 million meals to those who need it most.
The donation to Feeding America® is part of the company's ongoing efforts to do good in the communities that it serves. Through its Subaru Love to Help and Subaru Love Promise programs, the automaker has a long tradition of partnering with non-profits that are important to Subaru owners. As a local Subaru retailer, our team at Subaru of Englewood is committed to this effort too. Together, we are working to make a difference.
Feeding America
Fighting hunger is the mission at Feeding America®, and it's carried out by providing meals to more than 40 million people each year. Feeding America® also champions efforts to educate the public about hunger-related issues. In addition, they're a tireless advocate for food legislation that protects vulnerable populations.
As the nation's largest food bank, pantry, and meal program network, Feeding America® believes that everyone can help contribute to the fight against hunger. To learn more about Feeding America and how you can help, visit www.feedingamerica.org and follow them on Facebook and Twitter.
Subaru of Englewood
Subaru of Englewood is proud to serve the communities of Englewood, Queens, Bronx, and Northern New Jersey. We're committed to combating hunger and ask for your support in doing so. During these challenging times dependence on food banks is higher than ever, so we've partnered with local food relief groups to make sure our neighbors don't go hungry. Join us as we support these organizations. Just $1 helps to provide at least ten meals secured by Feeding America® on behalf of local member food banks. Contact us at (877) 460-0730, or connect with us online to learn more about this charitable cause.