Subaru has a reputation for making some of the safest vehicles on the market. Now, some of the safest vehicles are even safer and more technologically advanced than ever before. All tested 2019 Subaru models with EyeSight® Driver Assist Technology and Steering Responsive Headlights have received the highest possible rating from the Insurance Institute for Highway Safety (IIHS). This year Subaru has more 2019 IIHS Top Safety Pick+ winners than Toyota and Honda brands combined. Come see for yourself, as we carry every EyeSight® equipped model here at Subaru of Englewood. So you may be wondering what is EyeSight® Driver Assist Technology? Let's take a closer look at why Subaru's are so safe!
What is EyeSight® Driver Assist Technology?
Subaru's EyeSight® Driver Assist Technology includes a suite of safety features. At the core of the system is two dual color cameras that scan the road and anticipate potential dangers. The two cameras are placed near the rear-view mirror in a position that would never obstruct the driver's view. To explain it as simply as possible, EyeSight® is an extra set of eyes on the road that will monitor traffic, alert you of dangers, and even intervene if necessary to help you avoid a collision.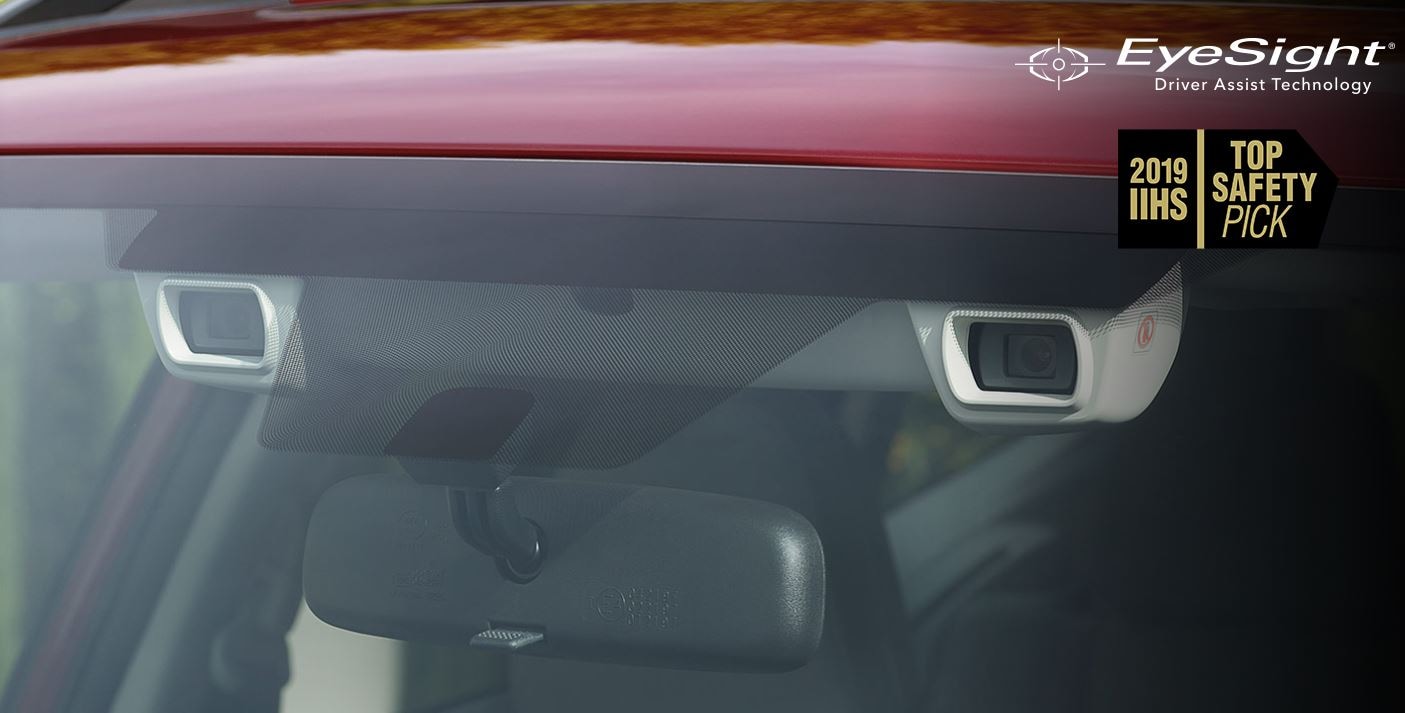 So how helpful is this technology? Based on IIHS reporting data, EyeSight® has been proven to reduce the rate of rear-end crashes with injuries by up to 85% and reduce pedestrian related injuries by 35%. The most important thing in any Subaru is the passengers. You cannot put a premium on the safety of your family, friends, and those around you. Watch the video below to see how some of EyeSight's features work and why real customers have trusted EyeSight® technology with their family!
EyeSight® Features
EyeSight® is an advanced safety system with a full suite of features. The main features of EyeSight® include Adaptive Cruise Control, Lane Keep Assist and Sway Warning, Pre-Collision Braking, and Pre-Collision Throttle Management. Eyesight Adaptive Cruise Control works by watching the vehicle in front of you and automatically adjusting your speed to help you keep a safe distance. You select your preferred following distance, then when you set your cruise control, your Subaru will automatically keep that distance if traffic begins to slow. EyeSight Lane Keep Assist and Sway Warning works by finding and watching lane markers in the road. If you begin to drift out of your lane, EyeSight® will alert you and intervene by gently pulling you back into your lane.
Pre-Collision Throttle Management works in part with the Pre-Collision braking. EyeSight® will detect objects in front of the vehicle that are likely to cause a collision and reduce the power from the engine. This feature reduces the impact force and front impact damage if a collision were to occur. EyeSight® Pre-Collision Braking works to help avoid and reduce front end collisions. EyeSight® can detect potential collisions and can brake automatically,c even applying full braking force in emergency situations. An IIHS study found that EyeSight® Pre-Collision Braking was able to detect pedestrians and lower the rate of pedestrian related injuries up to 35%. Reducing the rate of collisions and injuries is never something to take for granted, and it is something that Subaru owners and Subaru engineers take great pride in.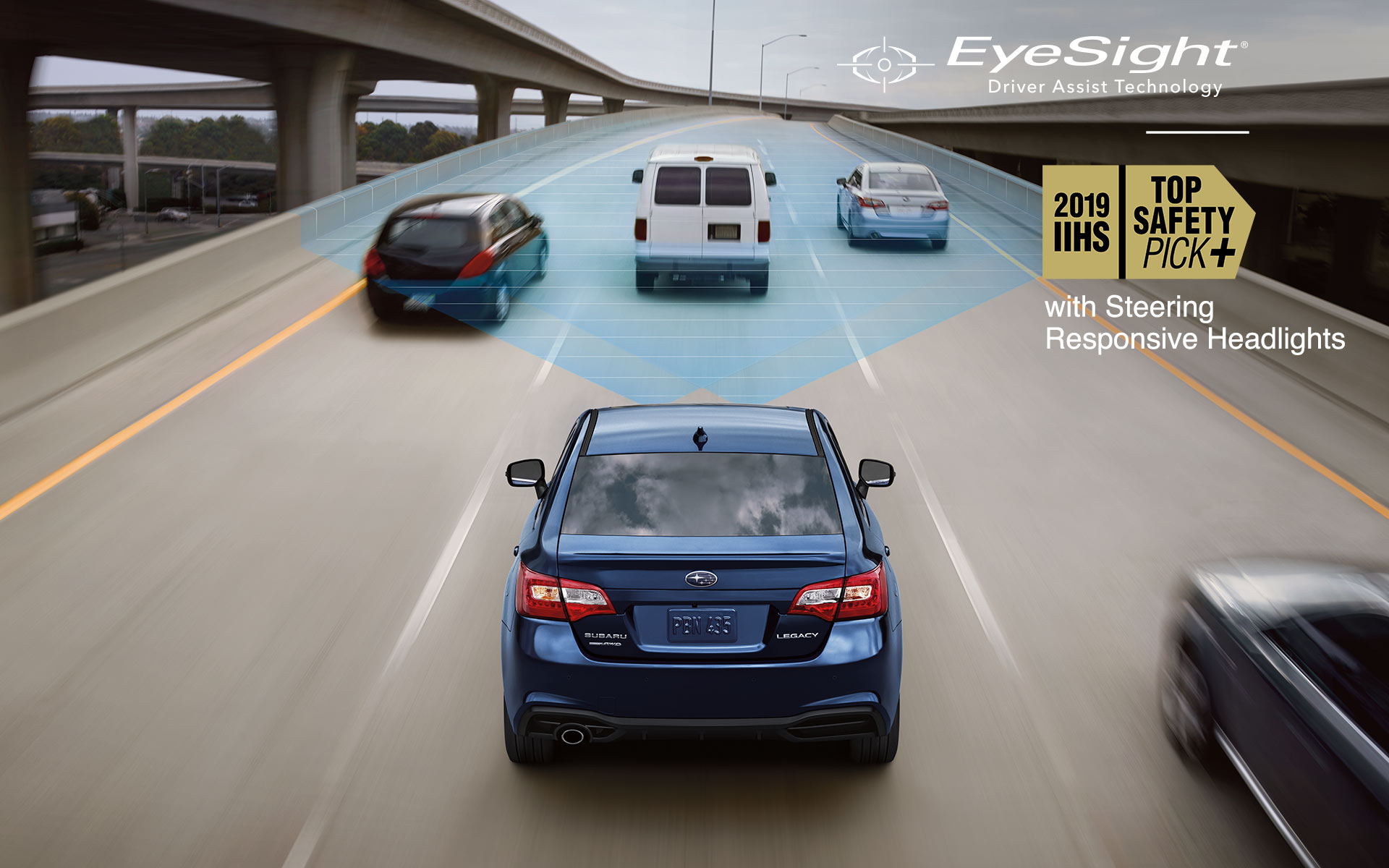 How You Can Get EyeSight® on Your Subaru
Subaru EyeSight® Driver Assist Technology is standard or optional on all models except the BRZ coupe. EyeSight® technology is currently standard equipment on the Forester, Legacy, Outback and Ascent. EyeSight® is currently an available option on the Impreza, Crosstrek, and WRX, but is said to be a standard option on the Impreza sedan and Crosstrek models soon.
Here at Subaru of Englewood, we have all of the EyeSight® equipped Subaru models. If you're interested in learning more about EyeSight® technology, come and take a test drive of a new Subaru model and experience it firsthand! Contact us today by filling out a form online or calling us directly at 877-460-0730 and one of our Brand Ambassadors will work with you to find the perfect Subaru model. We look forward to working with you!