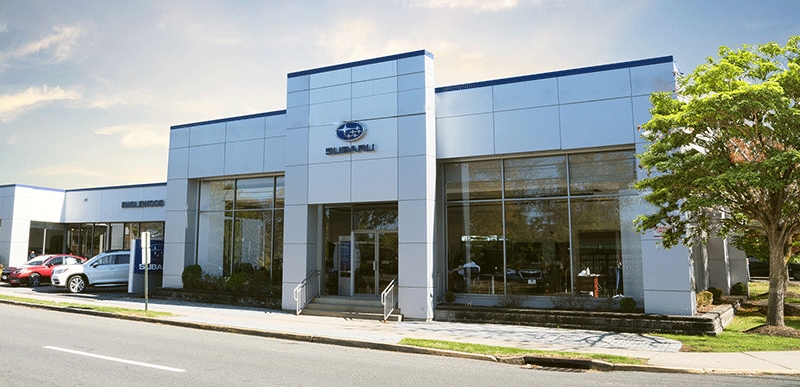 Proud History of Subaru of Englewood
---
Subaru of Englewood proudly serves it's Bronx area customers with the latest Subaru and used car lineup. Take a trip to our new Subaru and used car dealership conveniently located in Englewood, NJ today to learn more about what we have to offer. Not only do we offer a stellar new and used car inventory, but also a dedicated sales team who is eager to assist you in finding your next vehicle. Take the quick trip from Bronx to Subaru of Englewood today to learn more.

At Subaru of Englewood we are motor enthusiasts, meaning we're more than excited to teach you about the all new Subaru collection. Visit our state-of-the-art showroom today to learn more about the new Forester, Outback, Legacy, WRX, BRZ, Impreza and XV Crosstrek. Once you have found a model that you're most interested in, hit the streets of Bronx to experience the thrill packed inside a new Subaru vehicle. Our finance specialists will help make the dream of owning a new Subaru a reality by offering various car loans and leases.

Subaru of Englewood - The Beginning

---
It all began in 1946......My father, Ted Siebold, left the Hudson Trust Company in Jersey City to build his fortune in the emerging industry of the era-selling cars. On November 14, 1946 with two employees, Town Motors opened in a converted ice house on South Van Brunt Street in Englewood. Business boomed as a car starved America would and did buy anything with an engine and four wheels.
It did not matter what products you sold. The Forties was a period of growth and prosperity. Soon the old ice house that was situated on a back street became outdated. The alternative was our first major expansion in 1951 to our present showroom on the corner of South Dean and Garrett Place. The company continued to grow and branched into two new areas. The first was the opening of our leasing subsidiary, Traboric Inc. in 1965. The second was the opening of our free-standing wholesale parts business that has now grown to be the largest in the tri-state area today.
Subaru of Englewood Through the 1970's

---
The seventies was marked by three major events. The first were the two oil embargoes of 1973 and 1979. America finally realized that we were not energy self-sufficient. The second and most dramatic for the industry was the success of the imports: Europeans on the high end of the market and the Japanese on the low end. Lastly, was the passing of management from my father to me, Bob Siebold.
It was 1975. I was fresh from graduating Stanford University armed with a degree in history. Being my father's last best chance to take over business I was immediately appointed "Executive Vice President" on my first day at work, June 29,1975. This completed one of the truly mercurial rises in corporate history. Fortunately, I inherited a well- capitalized company staffed by forty-five experienced and extremely competent people. Try as I may, I was unable to screw things up too much.
Subaru of Englewood Through the 1980's
---
The eighties began with a deep recession caused by the oil shock in 1979, and corresponding shift to smaller, fuel-efficient cars. We added to our existing showroom and service facility, an additional five thousand square feet to display our exciting new products. Fortunately, we were faced with a need to expand. Our parts and service business had steadily increased over the past forty years. In order to be more responsive to our customers, we opened our new "state-of-the-art" service facility on 400 South Dean Street. We now devote over thirty-eight thousand square feet including thirty service bays and over one and a half million dollars in parts inventory to improve customer satisfaction and the ease of service.
Subaru of Englewood Through the 1990's
---
In 1994 we embarked on a relationship with Subaru, the number one provider of all-wheel drive vehicles in the world. Our relationship with Subaru has blossomed as American consumers look for creative all-wheel drive hybrids...Subaru's specialty. As we enter the new millennium we are now able to offer products from every part of the globe at every price point and for every driving need. Our parts and service business is one of the largest on the East Coast and continues to be motivated by a simple desire to delight customers.
Subaru of Englewood Today & Beyond...

---
With the advent of the Internet we are now a virtual dealership courtesy of our web site. Our new and pre-owned inventories are available for viewing from anywhere in the world by a simple click on your computer. Who would have thought 55 years ago that this would be possible?
My father always told me that the car business is the most glamorous, interesting, and fun business in the world. He was right. We have weathered war, recession, bad products, consumerism, unintended acceleration, and a host of other challenges.
Today Subaru of Englewood is a work in progress. We are never finished looking for new products and services that appeal to our customers. We continue to look for new and innovative ways to bring the Subaru of Englewood experience to the marketplace. We still remain committed to our founding principle: to provide the highest quality products and services at the best value for our customers.
As the humorist, Will Rogers, stated: "The future is not what it used to be." I agree. For Subaru of Englewood, it will only get better. - Robert Siebold