The 2021 Subaru Love Promise Customer and Community Commitment Award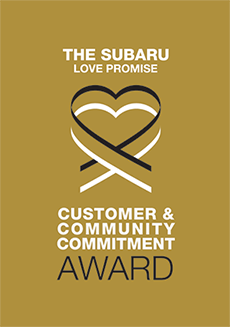 We've been nationally recognized for our dedication to our customers, our community, and the Subaru Love Promise.
We're honored to receive the 2021 Subaru Love Promise Customer and Community Commitment Award. This award nationally recognizes elite Subaru retailers who provide an exceptional customer experience at every interaction with Subaru. These retailers have also demonstrated an outstanding commitment to supporting passions and causes in their local communities in important areas such as the environment, community, health, education, and pets.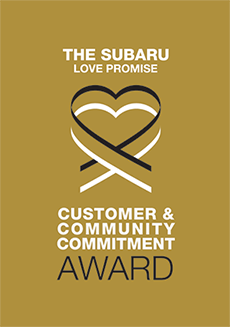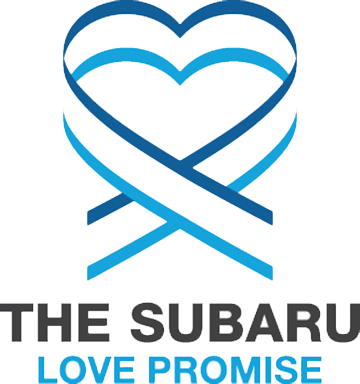 What is the Subaru Love Promise?
Subaru and our retailers believe in making the world a better place and the Subaru Love Promise is our vision of respecting all people. This is our commitment to show love and respect to our customers and to work to make a positive impact in the world.
How is Subaru of Englewood dedicated locally to the Love Promise?
Our Love Promise can be seen in various partnerships with local charities and non-profits. We're grateful for the opportunity, not only to be a part of our community, but to serve it as well.
Love Promise Stories from Subaru of Englewood
Subaru and Subaru of Englewood believe in making a positive impact on the communities in which we live and work. We uphold that belief through our Love Promise Community Commitment. Every month, we select inspiring stories from customers and partners from around our area who strive to support our collective commitment and feature them here
Feeding America Partnership Impact - City Harvest - Kristen S
"We are grateful to Subaru for their partnership with Feeding America, the national network of food banks of which City Harvest is a member. Through this partnership, City Harvest received enough funds to help us feed more than 100,000 of our neighbors in need. As we continue to ramp up our operations to feed the 1.6 million New Yorkers, including 1 in 3 children, currently facing food insecurity due to the COVID-19 pandemic, Subaru's support means more than ever at this critical time." -Jilly Stephens, CEO, City Harvest Can you please email Kristen Softley at ksoftley@cityharvest.org prior to using this story for any public purposes?
---
Blanket Donation - Jane s
Subaru of Englewood delivered a donation of blankets to Bergen County Housing, Health and Human Services center. The mission of the Bergen County Housing, Health and Human services center is to end homelessness by providing a full continuum of house services including homelessness prevention, temporary shelter and permanent placements. While although the blankets were not hand delivered to the guests, we were still given an opportunity to help bring the blankets to where they will be given to the guests. The donated blankets will be given to all guests as part of their "move-out" package when they are moving into permanent housing placement. It is without doubt that these warm blankets will help bring comfort to these people as they transition into their new homes.
---
Englewood Health Foundation Walk for Awareness - Jane s
Subaru of Englewood was one of the keys sponsors for the Englewood Health Foundation's 2020 Walk for Awareness! Englewood Health delivers the highest quality care to countless patients in our community each and every day and they need our support now more than ever. Due to COVID-19, the walk for awareness was 100% virtual but that did not stop the efforts of EHF to bring together the community to support October Breast Cancer Awareness month. All funds go to helping healthcare and patients have the means to get the top care. We have been fortunate enough to have Subaru of Englewood as one of our top sponsors the last few years and it is sponsors like them that provide endless support to our foundation as well as community.
---
Subaru of Englewood & The Do-Good Auto Coalition - Jane s
In the beginning of April, as we saw the severity of COVD-19 and the enormous impact on our country, our advertising agency, Constellation, created the "Do-Good Auto Coalition". This Coalition was formed by a group of Auto dealers who wanted to come together to make a difference to families in need and our community during the era of COVID-19. Here at Subaru of Englewood we wanted to ensure that families in our community who were greatly impact by COVID-19 were given the support they needed during this very difficult time. We provided both volunteers as well as transportation to deliver groceries to a family in need. We made sure that all requested groceries and house products were picked up and delivered to them in a timely manner. We will continue to work with this coalition to ensure that our community is taken care of during this trying time.https://www.nj.com/coronavirus/2020/04/car-dealers-in-nj-ny-and-texas-band-together-to-provide-help-during-coronavirus-pandemic.html
---
Subaru of Englewood Book Donation - Delores D
Subaru has dedicated their efforts to simple pillars that encompass basic human needs. We have pledged our "Promise" to make education accessible to all students so that they can excel in this ever-changing global market. Our commitment to education is one of our top priorities. Today, a 21st Century Learner's educational platform is bombarded by so much vast and corrosive information to developing minds, that Subaru has pledged to endorse valuable and vetted information, that address issues that affect students' education. This past October, Subaru donated 150 STEM books to local elementary school, Dr. Leroy McCloud Elementary in Englewood NJ as part of the Subaru Loves Learning initiative. This Title 1 school; i.e., a school or district that depends on state aid to fulfill the needs of its students, received award winning STEM titles that complement outdated or meager classroom library collections. Students now have the availability of revised information that closely align with state standards which allow them to compete and remain informed about our scientifically changing world through captivating graphics and updated information.Among all other advantages that our company bring to the table, Love and equal opportunity for access to education is what makes Subaru Loves Learning a valuable program in these times.
---
Subaru of Englewood & LLS Blanket Donation - Jane S
This year for the Subaru Loves to Care event, Subaru of Englewood partnered with The Leukemia & Lymphoma Society to support Englewood Hospitals' fight against blood cancer. This year with the help of Subaru of Englewood & LLS, we donated over 100 blankets to cancer patients! These blankets are used to help keep patients comfortable during their chemo treatments and extended stays at the hospital. It is our hope that with these blankets we are able to bring bit of comfort and relief to our patients and their families during difficult times. The delivery of these blankets took place at the Lefcourt Family Cancer Treatment and Wellness Center. Here the Team from Subaru of Englewood and a representative from Leukemia & Lymphoma Society got the opportunity to meet with some of the dedicated doctors and nurses, learn about their stories and patients as well as explain more about the Subaru Loves to Care initiative. It was an amazing morning and we could not have been more appreciative that Subaru of Englewood and the Leukemia & Lymphoma Society partnered with Englewood Hospital another year to help our patients fight against blood cancer!
---
Blanket Donation Delivery to Englewood Hospital - Michelle E
Town Subaru delivered a donation of 80 blankets to Englewood Hospital on July 17th and it was a very rewarding experience. While although the blankets were not hand delivered to patients, we were still given an opportunity to help bring the blankets to the unit where they will be given to patients and take a group photo with some of the staff. It is without doubt that these warm blankets will help bring comfort to patients.
---
Town Subaru Memorial Day BBQ - ted s
Every year, we at Town Motors have our annual Memorial Day BBQ. We do this to give thanks to our customers, employees, and families. This is just a small token of how we always Share The Love at Town Subaru!
---
Share the Love with Meals on Wheels - Jeanne M
This year, Town Subaru paired with Pascack Valley Meals on Wheels and Subaru for the Share The Love Event. With the help of all of you, we raised an amazing $3,640!! Next year, our plan is for much more!
---